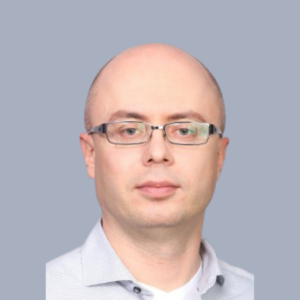 Dmytro Hryshchenko
Chief Financial Officer
Dmytro Hryshchenko has been working as Chief Financial Officer at Farmak JSC since 2021. He has held senior positions in financial management for over 16 years and worked with such companies as InBev, Knauf, and Danone.
At Farmak, Dmytro is in charge of effective financial strategy development and implementation, budget, tax and financial planning improvement, financial flow management, business processes optimization and financial stability maintaining to achieve the Company's business goals.
During his employment with international companies, Dmytro led projects to develop important components of the financial management system, such as US GAAP reporting, development of business planning cycle and effectiveness analysis. He was responsible for implementing the Beyond Budget cross-functional management tool and the SAP system which provided the team with powerful analytical tools, and automated core processes and made it possible for the company to step up to the next level of organizational effectiveness. Dmytro also participated in the projects of local and international private investment funds.
He graduated with honours from the Chernihiv Technological Institute majoring in Industrial Management. In 2018, Dmytro was awarded MBA degree by Edinburgh Business School.