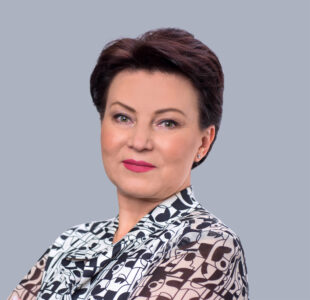 Victoria Kondrashyhina
HR Director
Victoria Kondrashyhina has been working as HR Director for Farmak since 2007. Before that, she held the position of the Head of the Export Sales Department.
She is responsible for the development and implementation of the comprehensive HR strategy of the company, as well as for the personnel management and HR policies. Victoria Kondrashyhina managed the implementation of new approaches to compensation, including grading as a highly efficient remuneration system.
Victoria Kondrashyhina was awarded diplomas from the Ministry of Healthcare of Ukraine, Certificates of Merit by the Head of Kyiv City State Administration, and a "Badge of Honour" from the Kyiv Mayor. She completed her training in the HRM management program at Kyiv-Mohyla Business School.
She graduated from the National Technical University of Ukraine "Kyiv Polytechnic Institute" with a degree in Management of Organizations.