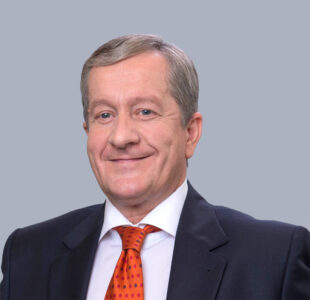 Mykhailo Vanat
Marketing and Sales Director
Mykhailo Vanat is responsible for the development and implementation of the marketing and sales strategy to improve the profitability of sales and business development, for the research of the market environment and pharmacy channels, for the retail demand forecasting. He promotes the interests of the company in the pharmaceutical industry of Ukraine.
Mykhailo Vanat joined the Farmak team in 2003. First, he held the position of Commercial Director, then has taken up the position of Director of Marketing and Sales. Under his leadership, a successful marketing team has been created, and a marketing strategy developed and implemented, which is a key to success of the company and which has made Farmak one of the leaders of the pharmaceutical market of Ukraine since 2010.
Today, Mykhailo Vanat is a member of the Supervisory Board, he heads the Development and Marketing Committee, is a member of the Audit Committee and the Investment and Science Committee of the Supervisory Board.