Kyiv Post: 95-year-old Farmak takes lead on domestic pharmaceutical market, aims to enter US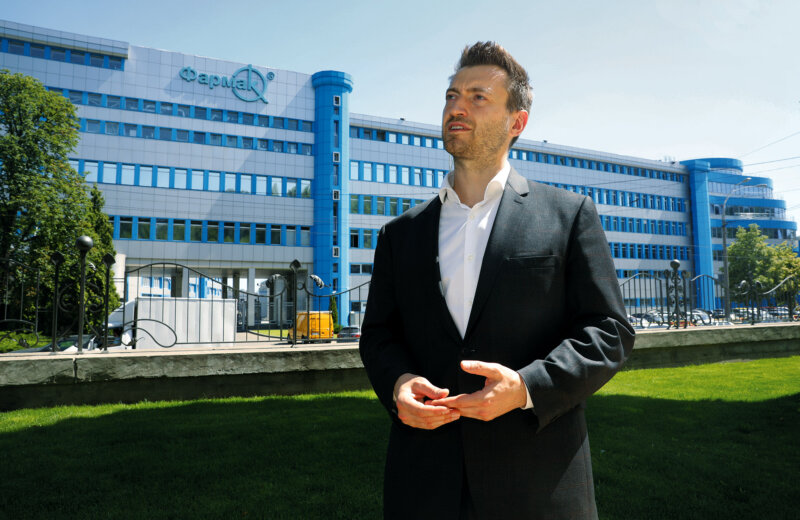 Ukrainian pharmaceutical company Farmak has been around since before World War II.
Founded in 1925 under another brand name, Farmak hasn't only managed to continue producing medicines. It has also become the leader of Ukraine's pharma industry, with the largest market share.
Now, CEO Volodymyr Kostiuk, 34, who has served Farmak in various capacities for 12 years, aims to expand the firm's presence in foreign markets, including in the United States.
Same medication for EU
Over 60% of the money Ukrainians spend on medication goes to foreign brands, even though there's almost always a cheaper Ukrainian equivalent of any drug.
Kostiuk thinks it's wrong to give preference to foreign firms over Ukrainian ones when buying medicines, but he would only trust well-established local pharma companies, including heavyweights Farmak, Arterium and Darnytsia.
In all, 115 pharmaceutical firms work in Ukraine, and Kostiuk "would not trust everyone" because some of them produce drugs that damage the reputation of the local market.
Kostiuk is an infrequent pharmacy-goer himself. But when he catches a cold, he buys medicine made in Ukraine — it's the same, but cheaper.
"It's effective and efficient, and with the money I save, I'll buy something else," he says.
There's no way Ukrainian medications are worse, according to him. Medicines produced by major Ukrainian pharma companies must abide by European standards because they sell the same products in the European Union, a key market for many of them.
Farmak, for example, sells 37 out of its 250 medications in the EU. There, it sets nearly identical prices for medicines made from ingredients it imports from 30 countries, including Germany, India, and China. In fact, the only Ukrainian thing about Farmak drugs are the labor and packaging — printed manuals, ampoules, packs, and bottles.
"We are trying to develop medicines that won't have any borders," Kostiuk says. "By exporting to the EU, we show our medicines are quality enough to be sold everywhere."
Apart from the EU, Farmak has sales offices in Uzbekistan, Kazakhstan, Belarus, and Kyrgyzstan. In 2021–2022, it will start sales in the U.S.
"The U. S. pharmaceutical market is the biggest in the world. It takes over 40% of global pharma," Kostiuk says. "Working there is a huge advantage for a pharma company and a serious challenge. (But) entering the U.S. will make it easier to enter other well-regulated markets."
As of today, Farmak exports to 28 countries. Post-Soviet states are "a classic destination" for the export of all Ukrainian drugs, but Farmak also trades with Asia, the Middle East and North Africa. In all, the company sells 25% of its production abroad and plans to increase this number to 40%.
That focus on sales, including abroad, starts from the very beginning of developing a new generic drug, because pharma is, first of all, a business.
There should be a detailed business plan and research to show there are customers, patents allow its production, Farmak can produce it and its production is actually profitable.
Once the board makes a decision to produce a drug, it takes the company about four years to get certifications from the state regulator and a signature from the health minister to start producing and marketing it. It takes another year to start selling it.
"Decisions in pharma are made today, results are seen in years," Kostiuk says. "I thought it was boring at first, but I've gotten used to it."
Sales and investment
As of today, Farmak has 250 medications and 100 in the making. The products range from simple eye drops to complex pre-filled syringes. Farmak medicines can treat the heart, hormone issues and other diseases.
Only two of Farmak's drugs are original: antiviral Amizon and liver and gallbladder treatment drug Antral. The rest are generics. Farmak's bestseller is nasal spray Eucazolin, which secured 7.4% of the firm's sales in 2019.
On this portfolio, Farmak generated $253 million revenue in 2019 and is planning to earn 15% more in 2020. Last year's net profit was about $40 million and 95% of it was re-invested into research and development.
"Crazy money for Ukraine," Kostiuk says. Expenditures, he adds, are needed to compete not just on the Ukrainian market, but abroad too. Farmak even attracted a 15-million-euro loan for development from the European Bank for Reconstruction and Development.
Currently, the company is investing in ramping up production, expanding labs, and producing its own active ingredients — key elements in drugs — to save on imports.
"We aren't trying to transfer anything to Europe. We are building Europe in Ukraine," Kostiuk says. "We want to develop, enter new markets. We'll do it from Ukraine."
Scientists around the world regularly come up with more efficient chemical substances that have fewer side effects. Once a chemical substance is created, it's creator gets an exclusive patent on its development and sales for 20 years. Once a patent ends, generic companies like Farmak can replicate the drug and sell it too. The company monitors expiring patents and starts making new drugs every year.
These drugs, excluding export, go to pharmacies and hospitals through at least five large distributors that work in Ukraine, including BaDM, Optima Farm and Venta.LTD. A company also must have marketing specialists who talk to doctors and to pharmacies about new drugs and even negotiate how packaging is displayed.
In Ukraine, 12% of drugs are bought with state budget money. These are mostly critical medications for people with cancer, breathing problems and HIV.
This means that 88% drugs sold in Ukraine are sold to individuals. The lion's share of these medications usually aren't prescribed, as self-medication remains popular: 82% of Ukrainians prefer to buy medication themselves without seeing a doctor if they have mild ailments, according to German pharmaceutical company STADA.
Kostiuk thinks this is part of the post-Soviet mentality and says it's wrong. "People should get treatment only if it's really needed," he says. "I have always been against self-treatment. A doctor knows better what pills to take."
"If you're making money in pharma," he adds, "then you should make it the right way — not on someone's grief, but trying to help."
https://www.kyivpost.com/business/95-year-old-farmak-takes-lead-on-domestic-pharmaceutical-market-aims-to-enter-us.html?fbclid=IwAR1Xs2ODyPVqzTomZXulRIG0b1y960tgA4wBdIXmHvu1WLFctuonJJahPn0