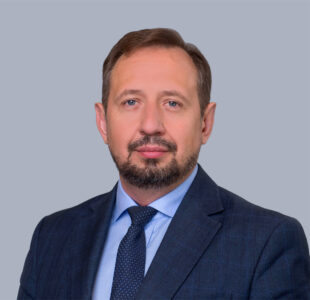 Dmytro Taranchuk
Director of Legal Support
Dmytro Taranchuk became the Director of Legal Support of Farmak in 2006. He started his career as a Legal Counsel in 2000.
Under the guidance of Dmytro Taranchuk, work of the Legal Department has been organized, and corporate restructuring processes and protection of the company's intellectual property rights have been carried out. Also, amendments to the current legislation of Ukraine were initiated and later successfully implemented, including the introduction of a zero rate of ethyl alcohol excise duty which is used for the production of medicine.
Prior to his career at Farmak, Dmytro Taranchuk served as a Senior Legal Counsel for the State Taxation Service, and later, as a Senior Legal Counsel for a commercial bank.
He was awarded an honourary certificate issued by the Cabinet of Ministers of Ukraine and an honourary certificate from the Kyiv City State Administration. He has a certificate of the right to practice as an attorney and is a member of the Lawyers of Ukraine Association.
Dmytro Taranchuk received a Master of International Law Degree at the Ukrainian Academy of Foreign Trade (today known as the Ukrainian State University of Finance and Foreign Trade) and a Master's Degree in Intellectual Property at the Odesa Law Academy. In 1999 he graduated from Taras Shevchenko National University of Kyiv with a degree in Law.