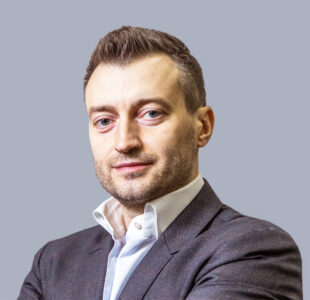 Volodymyr Kostiuk
Executive Director
Volodymyr Kostiuk, Executive Director of Farmak JSC from 2018. Previously, he had held the position of the Operations Director of the company. Before that, he was the chief of the liquid and semisolid medical products manufacturing shop. He has worked in the Company since 2008.
The main task of Volodymyr Kostyuk as Executive Director is to strengthen the leading position of Farmak JSC in the pharmaceutical market of Ukraine and to develop the export potential of the company. Every year from the year of his appointment, his name can be seen in the upper ranks of the ratings of the most successful top managers of Ukrainian companies.
Volodymyr Kostiuk has great experience in establishing contacts with foreign partners and developing the company's international cooperation.
He was responsible for the development and implementation of the company's strategy in manufacturing operations, the introduction of efficient business processes into manufacturing, management of the company's production activities, development processes, and expansion of production.
In 2009, he graduated from Taras Shevchenko National University of Kyiv with a degree in Economic Cybernetics. He studied at Donau Universitat Krems (Austria) in the MBA program.
In 2018, he graduated from Kharkiv Pharmaceutical University with a degree in Drug Technology and received a Ph.D. in Pharmaceutical Sciences.