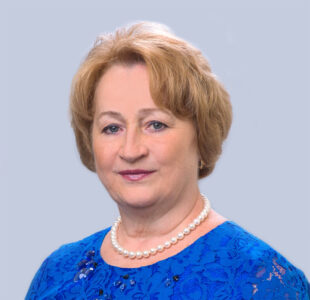 Olga Oleksiichuk
Quality director
Olga Oleksiichuk leads the Quality department since 2005. She holds the Quality Director — Qualified Person.
Before she held the position of a Chemist at a workshop laboratory of the Company. Under the leadership of Olga Oleksiichuk National and European GMP (Good Manufacturing Practice), international standards ISO 9000 and ISO 13485 have been implemented in the Company.
Since 2001 Olga is a certified quality auditor with the European Organization for Quality (EOQ) and the Ukrainian Association for Quality (UAQ). She is also a certified manager of quality systems EOQ and German Society for Quality (DGQ).
Olga was awarded Certificates of Merit of the Cabinet of Ministers of Ukraine, of the Ministry of Healthcare of Ukraine, of the Verkhovna Rada of Ukraine; "Badge of Honor" of Kyiv Mayor.
Olga Oleksiichuk graduated from the Leningrad Chemical and Pharmaceutical Institute (today known as St. Petersburg State Chemical-Pharmaceutical Academy) with a degree in Chemical Process Engineering of Bio-active Compounds.