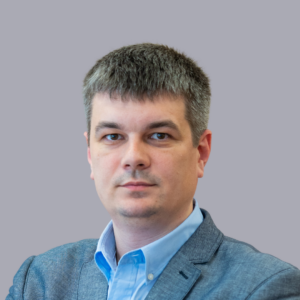 Yevhen Khodnievych
Quality Director
Yevhen Khodnievych took up the position of Quality Director of Farmak JSC in January 2023. He is responsible for the continuous improvement of business processes and the compliance of the company's activities with the regulatory requirements of the respective markets for the company's products. Yevhen Khodnievych is responsible for the development, implementation, maintenance, and continuous development of a pharmaceutical quality system (according to ICH Q10 and cGMP), a quality management system (according to ISO 9001 and ISO 13485), and a food safety management system (according to ISO 22000).
At Farmak, Yevhen Khodnievych previously worked as the Head of the Documentation Sector of the Regulatory Compliance Department, since 2018 he has been appointed Head of the Quality Assurance Department, and since 2021 he has been acting as the Head of the Quality Management Department. He also takes part in the coordination of one of the company's key projects, namely, the Lean project.
In 2007, Yevhen Khodnievych completed his studies in the specialty "Pharmacy" at the National Pharmaceutical University of Ukraine, and in 2008 he received the qualification "Specialist in Standardization, Certification and Quality" at the same university.