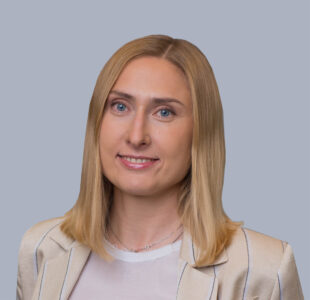 Yevgeniya Piddubna
Director of Corporate Communications
Yevgeniya Piddubna is responsible for building diverse and sustainable relations between Farmak JSC and state authorities at all levels. Her main tasks include positioning and promoting the company's interests in the legislative processes related to the sector regulation and improving the overall business climate in the country; analysis of major political, economic, and image-building events on a national scale; drafting and negotiating the company's participation in various events.
Yevgeniya Piddubna has significant experience in establishing effective communication of the company with state authorities, state and communal enterprises, institutions, and organizations. As Senior Director for Corporate Affairs at Carlsberg Ukraine, she and her team ensured the creation of favourable tax and regulatory environment for the industry. As the Head of the Parliamentary Reform Office at the Verkhovna Rada of Ukraine, she started the revision process of the Regulations of the Verkhovna Rada of Ukraine, and ran a functional examination of the Office, improved the communication of the Verkhovna Rada with citizens.
Yevgeniya Piddubna is a Member of the Public Council at the Verkhovna Rada Committee on Taxation and Customs Policy.
In 2013, she acquired a bachelor's degree in International Relations (Department of Global Policy) at Malmö University, Sweden. In 2008, she graduated from the Donetsk National University and acquired a master's degree in Foreign Philology and a specialist's degree in Journalism (Faculty of Related Professions).