Farmak is among TOP 3 companies with the highest corporate reputation management quality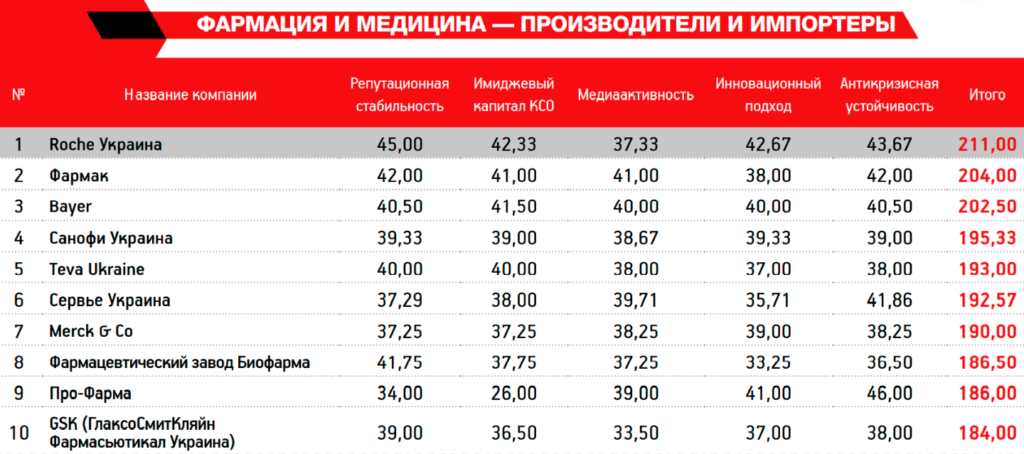 reputation management quality
In mid-May 2021, PR-Service agency presented the data on the annual rating Reputational ACTIVists. Farmak took the second place among pharmaceutical manufacturers and importers operating in Ukraine.
Corporate reputation management quality rating has been compiled for more than 15 years. As the organizers say, the rating is a good way to express public recognition to companies that have achieved high results in this area.
This year, both domestic and foreign companies representing different sectors of the economy were evaluated by 145 experts based on 5 criteria: reputational stability, image capital of corporate social responsibility, media activity, innovative approach and crisis resilience.
"Reputation is made up by the company's values, which guide it in routine work. For Farmak, this is first and foremost a transparent and responsible approach to doing business. From the first days of the pandemic, we have purchased mechanical ventilation and other necessary equipment for hospitals in different regions of Ukraine, started manufacturing sanitizers, Farmak scientists have developed a Ukrainian PCR test to detect new strains of coronavirus, we have protected our employees and continue to develop the country's economy. We do not need to artificially invent or window-dress anything. We just share what the Company really does," said Yevheniia Piddubna, Director of Corporate Communications at JSC Farmak.

"In the unprecedented pandemic year, companies that have earned reputational capital in advance rode the whirlwind. Everyone had to restructure business processes, but the mistakes of reorganization of those who enjoyed public trust were forgiven faster and easier. Hence, the natural conclusion follows: fix the roof before it starts to rain, work on the reputation continuously," said Olena Derevianko, Vice President of the Ukrainian PR-League.