Farmak opened the first mobile pharmaceutical museum in Ukraine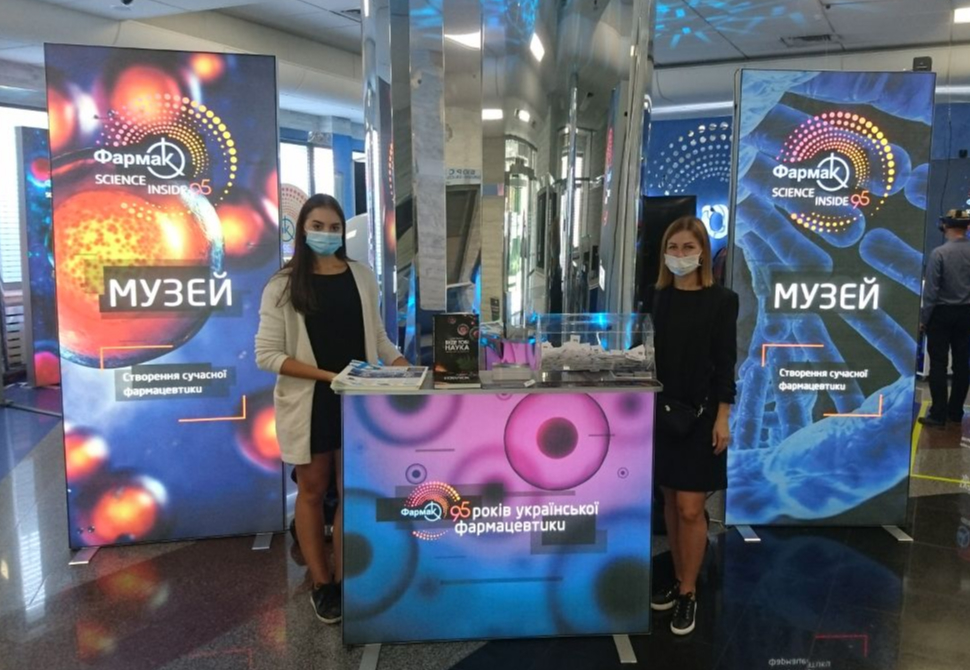 An innovative pharmaceutical museum, dedicated to the Pharmacist's Day, was launched at Farmak, and it will soon visit the largest cities of the country to promote science
In the Mobile Museum, you can learn about the history of Ukrainian pharmaceuticals on touch screens and discover the principle of medicinal products on the "Medicine map" model. With the help of VR-technology and a special game with augmented reality, visitors will be able to take part in the game process of medicinal products manufacturing, and to see useful videos about science, pharmaceuticals, Farmak, etc. in the movie theater. The museum will also present an installation – the human cell. You can also pause for a moment and make a photo near the creative photo-zone with the image of human DNA.
Part of the museum exhibits will be presented in the "Museum of Science", which will soon open at VDNG.
"This year Farmak celebrates its 95th anniversary. A lot of changes have taken place around and inside the enterprise during this time. The country, structure, managers have changed. However, the scientific approach to medicinal products manufacturing remained unchanged. Over the years, we have come to realize clearly that the scientific component is extremely important for pharmaceuticals and for industry as a whole. We talk a lot about this year's science. Farmak has already published a book about Ukrainian scientists who have changed the world. Today we are opening the Pharmaceuticals Museum. Why do we pay so much attention to the revival of the national scientific school? Because the future of our business is based on breakthrough discoveries and developments. And we are interested to see them happen in Ukraine. We want the best employees from all over the world, who chose Farmak among other global pharmaceutical big companies, to work for our enterprise, because they can best realize themselves here, in Ukraine. These are not just our dreams. After all, with the right policy of supporting domestic science, Ukraine can become one of the world's R&D centers. The foundation has been already established. Farmak annually launches about 20 new complex medicinal products on the market. The company invests approximately 15 million US dollars per year in research and development. Farmak cooperates with six leading Ukrainian universities. This year we signed a memorandum of cooperation with Junior Academy of Sciences. Farmak has been running Young Scientist School for several years, striving to revive our country's scientific potential. The company employs 150 scientists, 40 of whom are Candidates of Sciences and 5 Doctors of Sciences", – said Volodymyr Kostiuk, Executive Director of JSC "Farmak".