Volodymyr Kostiuk became a speaker of the anniversary UN Global Compact Leaders Summit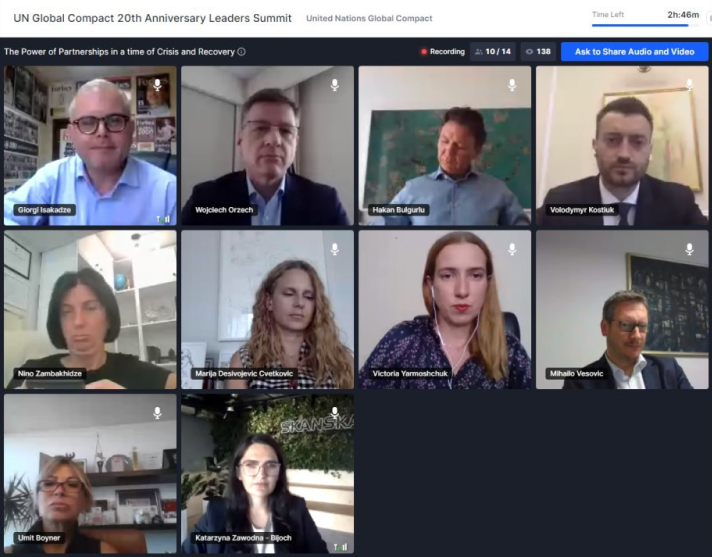 The Executive Director of Farmak dwelt on the importance of institutions and partnership in overcoming the consequences caused by COVID-19.
On June 15-16, 2020 the UN Global Compact Leaders Summit "Recover better, Recover stronger, Recover together" dedicated to the 20th anniversary of the largest initiative aimed at achieving sustainable development goals and supporting socially responsible companies around the world was held.
This year, the event was held online for the first time, becoming available to all stakeholders. The UN Global Compact Leaders Summit was attended by more than 12,000 participants from 193 countries and 21 UN agencies. This is the largest UN business event.
UN Secretary-General António Guterres called the COVID-19 pandemic "the greatest test that we have faced together since the formation of the United Nations." The world economy needs restoring and rethinking of the approaches used. The UN Global Compact leaders are able to work together to develop a new course that will meet the challenges faced by the humanity.
"As members of the UN Global Compact, we understand the importance of uniting business for prosperity and peace on the Earth. Today, the goals of the UN Global Compact are particularly urgent. The importance of partnership at different levels has significantly increased in the pandemic conditions. Such interactions as business and government, business and business, business and public organizations are the most progressive. In Ukraine, the majority of hospitals are supported by public funds. During the pandemic, the state was not able to quickly respond to the increasing demand for specific equipment and medicinal products. Then business joined to solve public problems. Farmak with the Zhebrivski Family Charitable Foundation provided 17 hospitals in different regions of Ukraine and a military hospital with lung ventilators, medicinal products, protective suits, disinfectants, digital ultrasonic diagnostic system, and other equipment for intensive care wards. The state also acted as a partner: it simplified the registration procedure for the medicinal products needed to combat pandemic, introduced a zero excise tax on alcohol used for the manufacture of disinfectants. The medicinal products used to combat the coronavirus disease, according to the law, are imported on a first-priority basis, without any duties and taxes. Own pharmacy guarantees safety and independence of the state. Europe and the United States have phased out imports. But it is impossible to completely shut in from the outside world. Medicinal products have no boundaries. Farmak provides medicinal products to the Ukrainian market and exports them to more than 20 countries. We supply one of our medical products used in dealing with complications caused by COVID-19 to Sweden, the UK and other countries. We are allowed to do this because our manufacture is certified in compliance with European quality system. This is an example of partnership for the common goal – victory over the coronavirus disease," said Volodymyr Kostiuk, Executive Director of JSC "Farmak" in his speech.