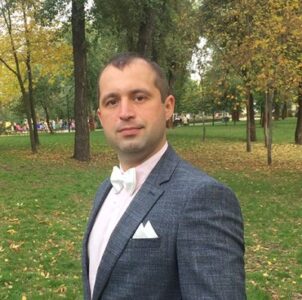 Hi, everyone.
My name is Dmytro. I am from the town of Shostka, Sumy Region. When I was at school, I was keen on natural sciences. My parents wanted me to become a lawyer or a doctor. I chose the latter, although in my own interpretation.
In 2009, I graduated from Kyiv National University of Technology and Design majoring in Pharmaceutical Technology Engineer, and in 2013, I got my Master in Industrial Pharmacy from the National University of Pharmacy.
During my internship at two pharmaceutical companies in my fourth and fifth years of studies, I had a chance to compare these two large pharmaceutical companies. Among them, I preferred Farmak. There were a couple of reasons behind that decision. One was the opportunity to work in a young team with most of my groupmates already working at Farmak; and the other was that I hoped to gain valuable experience for myself, with Farmak being the best fit for it. Thus, in 2009, I successfully passed the interview and was hired in the position of a supervisor.
The University gave me theoretical knowledge being an excellent foundation for the practical experience to be gained in the Company. A lot was new to me, but I was determined to put all my efforts to be the best at what I do.
In 2011, the Company started implementing the SAP ERP system to further improve its management system. And I was invited to take part in that project, and I was offered a position of engineer at Production Management Department. It was difficult, yet interesting. Little by little, I mastered the information that was new to me. I was mainly involved in compilation of bills of materials and record keeping.
In 2018, the Company opened a vacancy related to contract manufacturing, which established quite high requirements for the candidates. I decided to give it a try and succeeded! I successfully passed all stages of the interview and started working with the tasks that were totally new to me.
Later my story in the Company became even more interesting when new launches and boosting of Company's production output demanded expansion of production facilities. In 2020, I was invited to join a new production site project.
Our project team worked hard to establish and open a new workshop, where aseptic production is already located. The production units of the new Workshop are equipped with production equipment manufactured by the leading European machine-building companies. The concept design was developed taking into account the current regulatory requirements of EU cGMP, US FDA cGMP.
The works on the second phase of the project are still underway. For myself, the experience that I was able to gain thanks to Farmak and my team is very valuable because it is our joint great victory and achievement, which is still a work in progress.
The experience and knowledge gained have allowed me to take a leading position in the new Workshop. I am most honored and sincerely grateful to Farmak for my development and for encouraging me to keep improving and training, particularly in various seminars, workshops and exchanges of valuable experience.
I should also mention that Farmak is a place where I have met good friends and acquaintances among Farmak personnel. So, every year, we go skiing and have fun together.
I would like to wish new employees to take difficulties on the chin and make sure to pursue their goal!