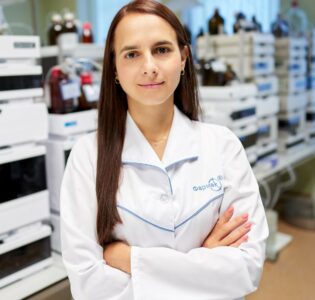 Hi, everyone,
My name is Liudmyla. I come from the town of Svitlovodsk in Kirovohrad Region. Back at school, my passions were ballroom dancing and chemistry. The latter influenced my further professional life.
I entered the National University of Food Technology choosing industrial biotechnology as my major. And from there, with a Master's degree, I started my career as an engineer at Farmak. Today, I manage the Quality Management Division.
Each working day at the department is full of diverse tasks, most of which are not similar to each other and will rarely recur even within a single function.
My division's specialists ensure performance and continuous improvement of the pharmaceutical quality system. In particular, we communicate with the national and foreign regulatory bodies and partners, monitor the activity of the subdivisions for compliance with the GMP requirements and internal procedures, design new processes and optimize the current ones, create risk assessment methodologies for different facilities and processes, train the personnel on GMP requirements and perform many other functions within the pharmaceutical quality system.
The Company's and my own success inspire me to develop further in the team of super-specialists in their field.
⠀
I wish all young people to find a calling that will inspire them and yield benefits to both themselves and society. ⠀