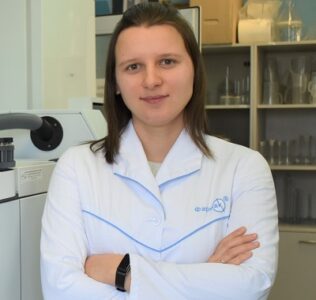 Hi, everyone,
My name is Liudmyla. I come from the town of Varash, Rivne Region. Ever since school, I have been passionate about chemistry and would time and again win prizes at competitions.
I had no difficulty in choosing a university and my major. I knew who I wanted to become and chose a chemistry-related specialty. After school, I entered Igor Sikorsky Kyiv Polytechnic Institute with Technical Electrochemistry as my major.
During my Institute time, a friend of mine started working for Farmak and would often tell me about her work on the chromatograph.
I was curious and, after graduation, I sent my CV to Farmak. Unfortunately, there were no vacant jobs at the Company at the time, so I worked someplace else for a while.
A year later, a vacant job of chemist was offered at Farmak. I made a success of the interview and started working in the Chromatography Lab. I had to study chromatography from scratch, first, liquid and subsequently gas chromatography. After a while, I was promoted to a senior chemist position. In my new position, I distributed work among chemists, helped colleagues and kept records. However, the best part was still ahead, when I was transferred to the position of engineer-analyst and got to work on implementation of a new unique project. This allowed me to boost my skills in bioorganic synthesis and gain experience in operation of analytical equipment at various structural units of the Company. All this was new to me and required a lot of effort and perseverance, but most importantly, I like it because ambitious projects help me develop and grow professionally. I should also mention my colleagues: we are all good friends and always try to help each other and offer support if something does not work out.
An interesting experience for me was my participation in the School of Young Scientist, an international conference for young scientists annually organized by Farmak, where I presented my scientific work.
It was at Farmak that I started cycling to and from work. For convenience, the Company has set up a bicycle parking lot and there is a shower to freshen up after the ride. I like it that I cover 30 km every day. It helps me feel well and high-spirited. I also have a little hobby of electroplating. Galvanic coating is different from other coating types and is remarkable for producing a special metal film of minimum thickness (literally 50 microns) that makes it possible to protect metal products and other materials from oxidation and corrosion. This is how interesting my hobby is.
I wish all young people to pursue their goal, not to be afraid of the new things and to be confident in their abilities!