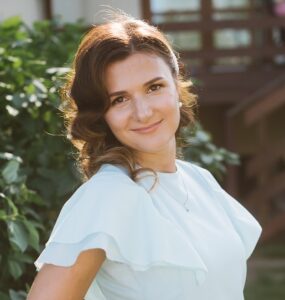 Hi,
My name is Oksana. I was born in Kyiv. My parents dreamed that I would become a doctor. But I cheated a little and entered Kyiv National University of Technology and Design choosing Technology of Pharmaceuticals as my major. It is close enough to medicine, but I am still not a doctor.
Upon graduation, I worked at another pharmaceutical company for six months and uploaded my CV to robota.ua. I got a call from Farmak inviting me for an interview for the vacancy of drug standardization engineer.
I passed a series of interviews and was chosen as the final candidate for the position. Thus, in 2008, my story with Farmak began. As I started my work, I completed my second higher education in Quality, Standardization, Certification at the National University of Pharmacy. I was the youngest in the new team. I remember everyone trying to take care of me and help me in every way possible.
When I had been working as drug standardization engineer for two years, our department opened a vacancy for a specialist in drug registration. I applied, passed the interview and was transferred to this new position. My duties included obtaining marketing authorizations of drugs in Ukraine, supporting the authorization process, communicating with the competent authorities. This job is rather difficult, hence interesting. It requires continuous improvement, training and development.
This year, I was included in the personnel talent pool and now I am studying at the School of Development of Company Managers. I hope to become a good leader in the future.
Farmak often holds sports competitions, master classes and workshops, which are perfect to enrich the working routine. It was at Farmak four years ago that I became a blood donor and have been one ever since. I like that the Company involves its employees in such important things! And in 2019, all of us from the department participated in a race in the town of Shostka, which is annually organized by the Company. I liked it and have been into running ever since.
Farmak is more than just a job for me!