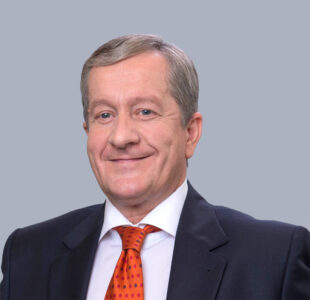 Mikhail Vanat
Supervisory Board Member
Mikhail Vanat has been a Supervisory Board Member since June 30, 2017, he was reelected on April 19, 2018. Mikhail Vanat manages the Development and Marketing Committee. He is a member of the Audit Committee of the Supervisory Board, as well as the Investment and Science Committee.
Mikhail Vanat joined the Farmak team in 2003. First, he held the position of Commercial Director, then took up the position of Director of Marketing and Sales. He was responsible for building the company's marketing policy and monitoring its implementation, analyzing the market environment and sales channels, forecasting consumer demand, and developing product portfolios. He created a marketing strategy and built a marketing team, a key to the success of the company, which made Farmak one of the leaders in the pharmaceutical market of Ukraine since 2010.
Prior to joining Farmak, he was an Executive Director at Pharmacia-2000, he was teaching at the Bogomolets National Medical University and practiced medicine for ten years as a therapist.
He was awarded an honourary certificate by the Ministry of Health of Ukraine and certificates from the Cabinet of Ministers of Ukraine.
He graduated from the Ternopil State Medical Institute (now Ternopil State Medical University) as a physician-therapist.