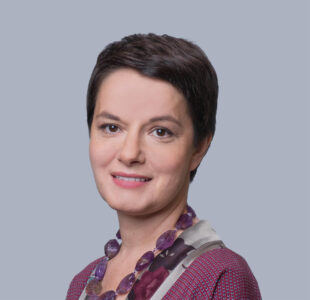 Victoria Smarodina
Supervisory Board Member
Victoria Smarodina has been a Supervisory Board Member since June 30, 2017, and she was re-elected on April 19, 2018. She is a member of the Appointment and Incentives Committee of the Supervisory Board, and a member of the Audit Committee of the Supervisory Board, a member of the Investment and Science Committee of the Supervisory Board, as well as a member of the Development and Marketing Committee.
Victoria Smarodina had been the Chief Financial Officer from 2011 till 2021. Before she was the Head of the Internal Audit Department.
Under her leadership, the company adopted unified financial accounting principles based on International Financial Reporting Standards (IFRS); also modern policies were introduced in management accounting, budgeting, and treasury management.
Victoria began her career at Ukraine International Airlines as an Economist. In three years she was promoted to the position of Head of the Economics Department. Later she had been working for 13 years at the Big Four (audit firms), namely Ernst & Young and Deloitte.
Since 2005 Victoria Smarodina is a chartered certified accountant and a member of ACCA (Great Britain).
She graduated with honour from the Taras Shevchenko National University of Kyiv with a degree in Economic Cybernetics.