Farmak in the TOP-25 employers according to the STUD-POINT rating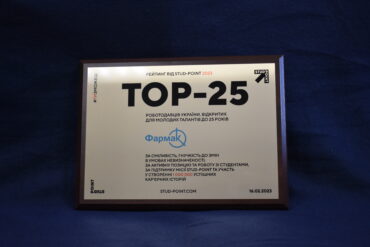 Farmak won the TOP-25 rating of employers open to cooperation with young people, according to STUD-POINT.
The rating assessed the activities of more than 500 Ukrainian companies. The main criterion for determining the winners was the openness of businesses to students and the availability of effective projects designed to develop young professionals and their further employment.
Farmak, even during the war, regularly holds educational events for young people, supports students at the beginning of their careers and offers decent working conditions. In total, in 2022, the company attracted more than 500 students to its events:
conducted its own educational project Farmak_Lab, attended by students from 5 universities of Ukraine;
organized 10 lectures for students of 6 leading universities of Ukraine, both with the participation of HR specialists and with the involvement of specialists who shared their practical experience;
continued the scholarship project and selected the top 5 students for scholarship awards. And even employed one of last year's scholarship holder;
took part in the defense of bachelor's and master's theses;
organized training practice for students of 4 universities;
took part in 4 job fairs for students;
held the anniversary conference, tenth School of a Young Scientist, which took place despite the blackout.
"Talented youth is the future of our country. Therefore, we do our best to support and provide development opportunities for future experts in the field of pharmaceuticals in Ukraine. As 2022 showed, neither blackouts, nor air raid alerts, nor intimidation of the enemy stopped our youth in their desire to gain new knowledge and experience. This inspires considerable pride, respect and hope," says Victoria Kondrashyhina, HR Director at Farmak.